How to browse/search for classes
The Registration Portal (registration.wayne.edu) has three areas where you can search for classes. The steps below are the same for all three areas:
Browse Classes allows you to search for classes without needing to log in.
Plan Ahead gives you the option to save your selected courses and, when available, sections of classes you wish to take. You can have your advisor review your choices and they can also create plans from which you can register. 
Register for Classes is where you register for classes and can adjust your schedule to add and drop.
---
Select your term
Enter Search Criteria
You can search for classes by typing in the subject abbreviation, or by placing your cursor in the box to expand a list of departments offering courses this term. You can click on the Advanced Search to expand the search features. For a walk-through of how to search specifically for online classes, see: How to search for online classes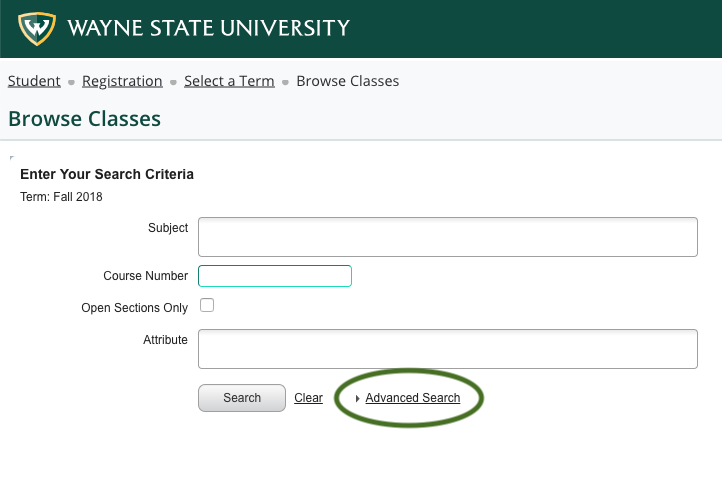 Search Results
The search results will tell you the Course Reference Number (CRN) of each section, title, number of credits, the instructor, times and days, campus, and number of seats avalable. You can increase the number of classes shown or move through the pages at the bottom of the screen.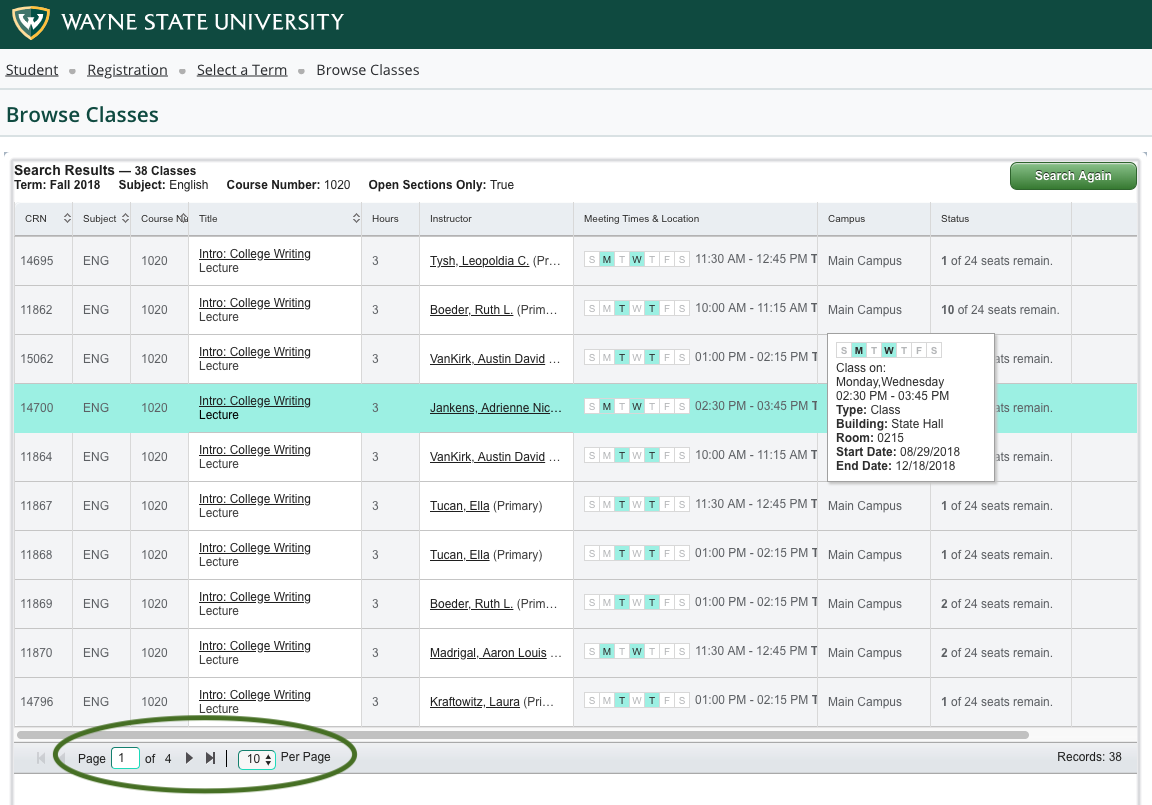 You can use the cog icon to select/deselect columns you want to view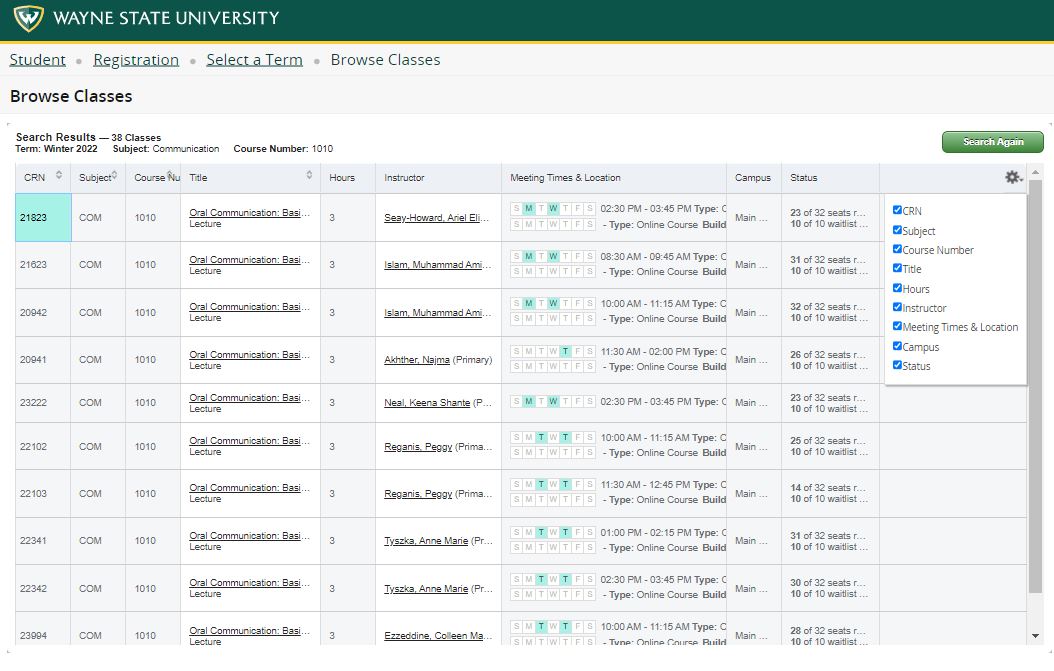 IMPORTANT! 
Some classes have more than one meeting type. Hybrid classes have both an in-person and an online component. Each set of days of the week represents a part of the class. 
In the search results, you will see more than one set of days (Sunday Saturday) for each set of required times and days.
The Class Details panel will include multiple entries on the Instructor/Meeting times tab that can be expanded by clicking on the arrow to the left of the instructor's name.

Class Details
Clicking on the title of the course will pop open a Class Details window. Note the important information about deadlines for tuition cancellation and withdrawals. A tab-by-tab explanation of the Class Details panel is available at: How to read the Class Details panel
Linked Classes
For linked classes, you will need to select a lecture (the course that shows the number of credits for the class) and an associated laboratory, discussion, or quiz. Clicking on "View Linked" will show you the lecture or labs/quizzes/discussions tied to that CRN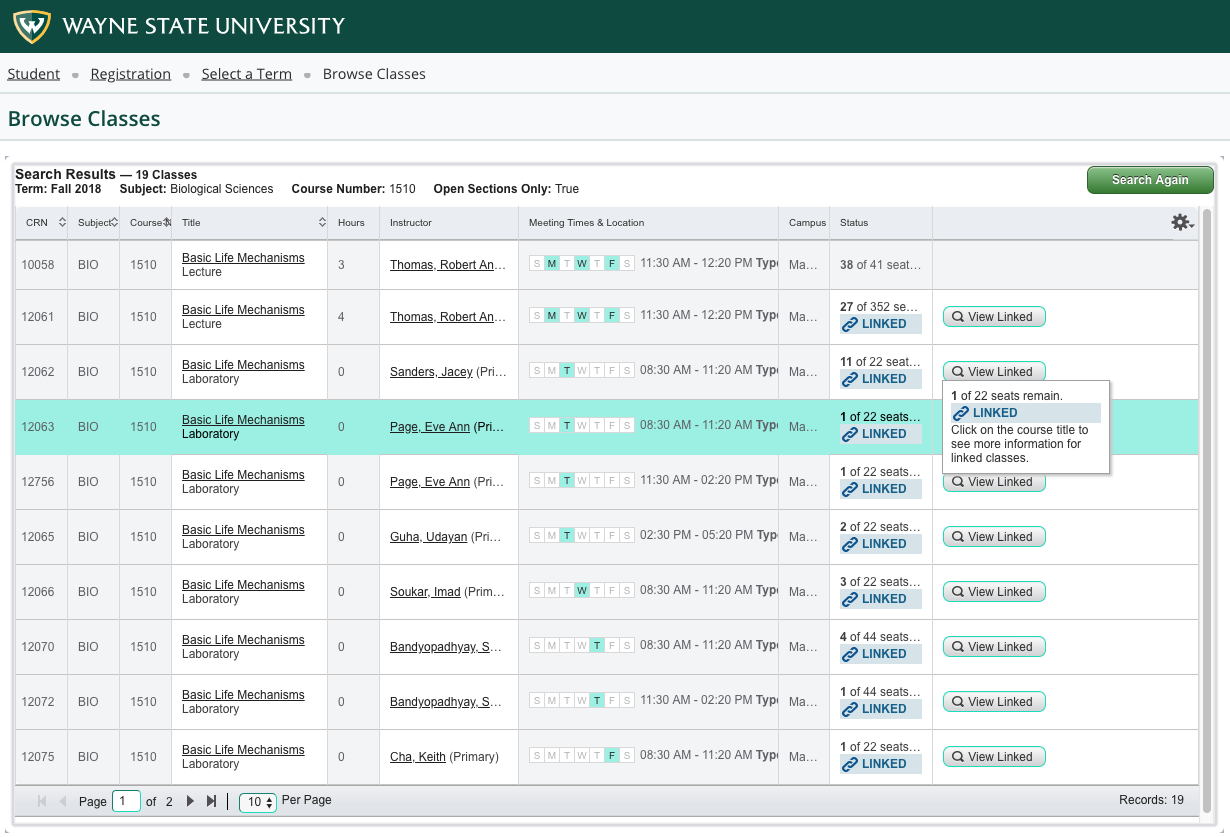 ---
Video courtesy of New Student Orientation: