How to read your class schedule
You can view your schedule in the Registration Portal (registration.wayne.edu)
under "View Your Class Schedule" 
Using the "View Your Class Schedule" option will allow you to view your schedule even if registration is not active for that term or if you have a hold preventing registration. In the lower half of the webpage, you can view your schedule on a calendar grid by day and time (Schedule) or as a list (Schedule Detail). You can also use the email and print icons to print out your schedule (or save as a PDF), or email it to yourself and up to three other email addressses.
When you click on the title of a class and go to the Instructor/Meeting Types, it will show you the times and days associated with the course, and each entry will include one of these four descriptors, under "Type":
Class – Students are expected to complete all course instruction on campus face-to-face. Some of these courses are individually arranged (like research, thesis, and directed studies), in which case the times and days will be ARR ("arranged") and you should contact your instructor for more information.
Exam – "EXAM" means your instructor is preparing face-to-face examinations on campus. There should be a date associated with that and potentially a room assignment.   
Synchronous – These are classes where you are expected to be logged into the course at those specific days and times.
NOTE: Class, Exam, and Synchronous courses will appear blocked off on your schedule. Time conflict checking is active and should alert you if you try to register for overlapping classes.
Online - When the meeting type says, "Online" and there are no days and times listed, your instructor will inform you of your coursework deadlines in the class syllabus. There are no scheduled meetings as part of the course. You will be expected to work at your own pace and participate as directed by the professor.
NEW in ADVANCED SEARCH - search by instructional method: Hybrid, online - no scheduled meetings, online - scheduled meetings, traditional - face to face. Not all classes will be offered in all formats.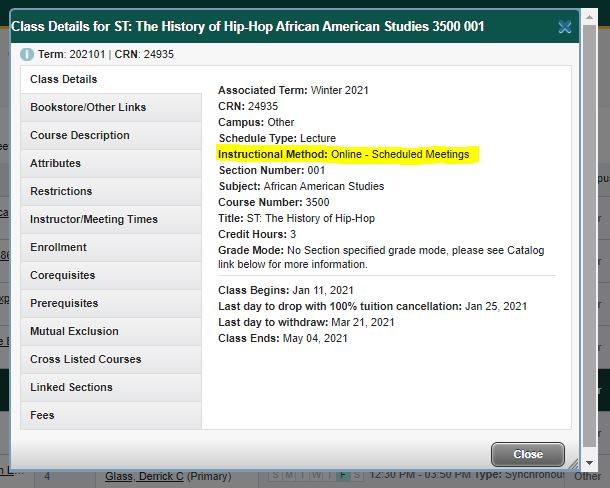 SAMPLE SCHEDULE - Schedule View: Click on course titles to view Class Details 
SAMPLE SCHEDULE - Schedule Detail View
Questions? Email us at registration@wayne.edu
Updated 10/27/2020